Because we want to offer you with the best cuisine possible,
we don't keep a fixed menu.
Our chefs create a menu that suits the ingredients, not one that suits themselves.
It is because of this that we offer our customers the best dining available, every single time.
Our Ingredients
Seasonal vegetables from contracted farmers
Arriving fresh every day, our vegetables are raised with love in the bountiful nature of the surrounding Tajima region.
At Sensui, offering ingredients at the peak of their quality is what we strive for.
It is because of this that we do not rely on a set menu. Instead, we change our menu to suit what's best given the season, and present our meals in way that truely shows you this.
Enjoy Tajima's four seasons with your eyes and your tastebuds.
Contracted farmers / Organic Farm SORA
https://www.facebook.com/soraorganicfarm/
Tajima Beef
Famous as a brand also across Japan, is 'Tajima-gyu' ('gyu' meaning beef). Much of the also famous Kobe and Matsusaka beef is actually raised in Tajima, before it is rebranded. Its superior marbled and tasty red meat are what give it its distinguished flavor. With great differences in the temperatures between morning and night here in Tajima, it makes the perfect area for raising high-quality branded beef.
To fully relish the flavor, enjoy the beef on its own as a steak, or eating it shabu-shabu-style.
Here at Sensui we have prepared an abundance of menu options that are made using Tajima beef.
(Matsuba / Zuwai crab)
As the crabs are only fished between November the 6th and the end of March, they make for a very limited seasonal ingredient.
The Matsuba crabs (called Zuwai crabs in the east of Japan) fished at Tsuiyama harbor (a 5 minute drive from Kinosaki) are called 'Tsuiyama crabs'.
With many ships coming in and out of the harbor daily, we provide only the absolute freshest crabs to our customers. Please enjoy the unique sweetness and texture of these fresh crabs.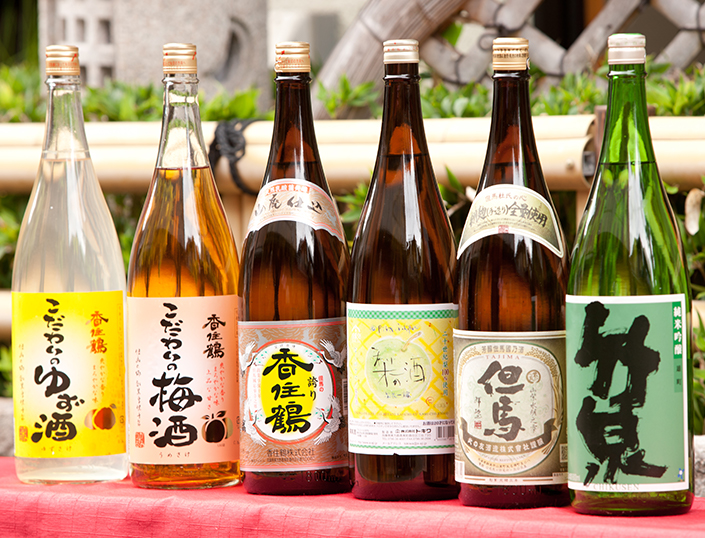 Locally brewed Tajima Sake
Among the famous sake breweries of Japan, you can find many Tajima brands in their ranks.
Sake of many different flavors and textures are available, so please enjoy them as an accompaniment to your meal.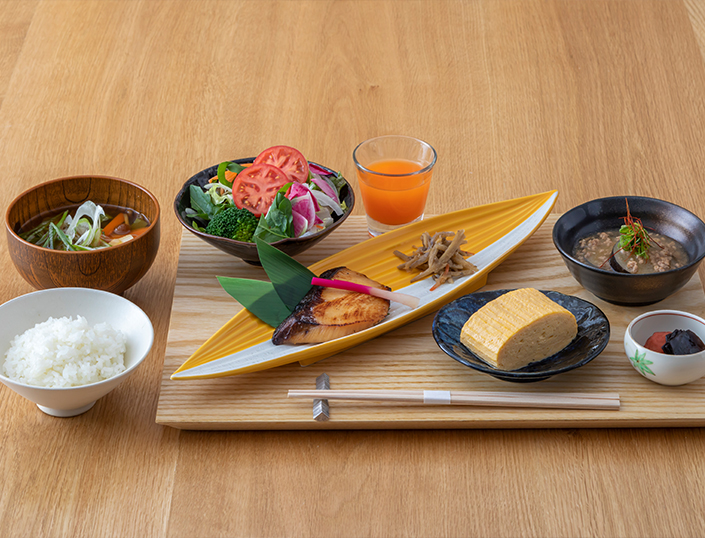 Breakfast
Our breakfasts are made with lots of locally grown vegetables.
We want you to eat only delicious food when you stay with us, and we bring you a breakfast consisting of carefully chosen 5-grain Japanese porridge, locally caught boiled and marinated fish, as well as locally sourced vegetables, eggs, and rice. A menu that is as delicious as it is healthy and nutritious.
Please choose from the two dining times below for your dinner:
A. Starting 5:30 p.m and finishing 7:30 p.m.
B. Starting 8:00 p.m and finishing 10:00 p.m.
Instead of rice with your meal, we serve soba (buckwheat) noodles. To our customers with buckwheat allergies, we can swap the buckwheat soba for wheat noodles on request.
Aside from the set course menu, we also provide an à la carte menu.
Additional Dishes
Abalone

Single portion:

¥3,300~

We can fry and butter the abalone to your preference.

Tajima Beef Steak

Single portion:

¥5,500

Large Sashimi Platter

¥5,500

We prepare the amount served according to the number of people
Lunch
Lots of Tajima-sourced ingredients are used in our lunch menu that changes daily.
Even if you aren't lodging with us, feel free to come in and dine with us for lunch.

Menu (tax included)
- Ryokan Lunch (choose from fish or meat) ¥2,300
- Breakfast of the Day ¥1,800
- Ryokan Bento (take-away) ¥1,200

Operating Hours: From 11:30 a.m. to 3:00 p.m. (Last order is at 2:30 p.m.)
Closed on Wednesdays
Total seats: 18
Parking: No guaranteed parking (Lodging customers take priority for our free parking - please contact reception for availability)
*All seats are non-smoking